Green & Gray Gown: alterations completed
The alterations on the gown were successful. We also added some ties for the sleeves. I forgot to ask to take pictures when we tried it on :( But I did grab a few quick ones on her Uniquely you form: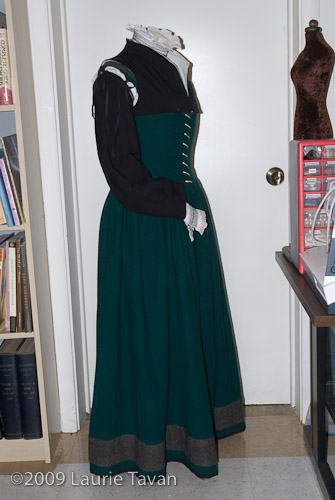 I found the Uniquely you form doesn't squish down as nicely for the Renaissance stays as it does for the Victorian shaping. And even with the Victorian the bust mass doesn't lift or separate at all like a real human will in different styles. It is still the best I've worked with for working with gowns with corsets underneath.
Another maker has recently chopped off the breasts of this foam form for under more conical corset. I'm contemplating trying the same on my own and see if I can put them back under the form cover accurately for other styles as well. Maybe that would allow me to create a closer shaping to match the real person corseted.