Victorian purple Wedding gown: train & bodice fitting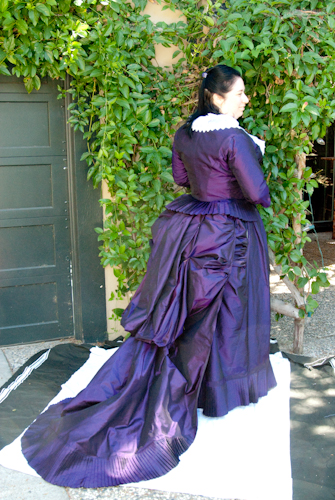 The detachable train needs a few more stitches put in and the closure but it is looking fantastic with the dress! The bodice fitting went well and I worked out the overlap for the correct sized buttonstand, although we are going to do fake buttons to keep from putting any holes in the garment that will make it harder to alter over the lifetime of my client wearing it. I do like how real buttonholes look but I love being able to move things around easier by doing it with hooks behind a false button placket. Anyway on to more pictures…

Train: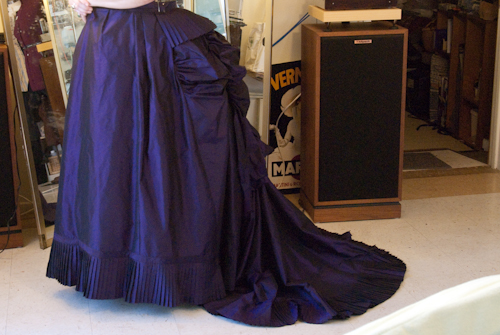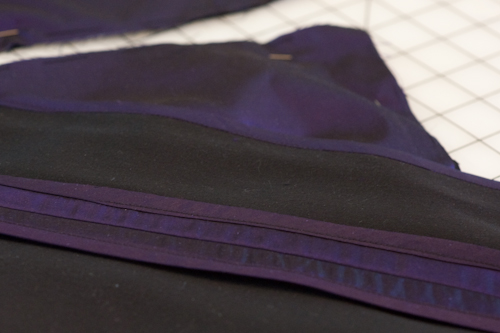 The entire bodice is interlined in silk organza which was hand basted in and then the edges finished with silk bias tape. The straight seams all have 1″ extra and the curved 3/4″ extra to allow for future alterations. The boning is then stitched into the opened seams in boning casings. There is no boning in the bodice currently for the fitting so things will smooth over even more when it is done.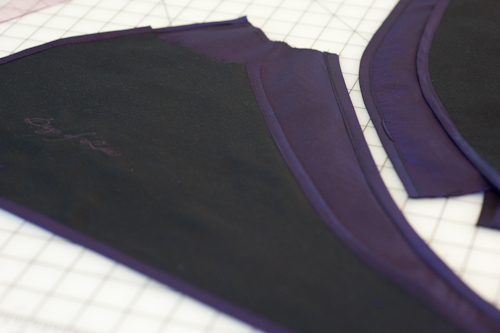 We then took a quick trip outside and snapped some photos of the progress: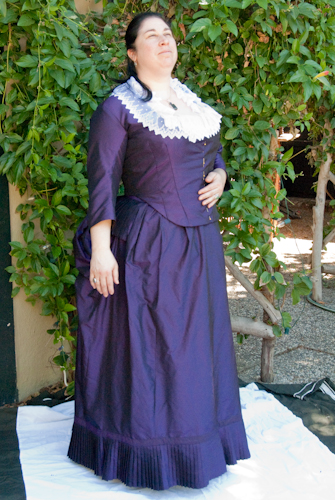 The lace collar is just pinned into place and got a little blown out in the photos so next time we'll get better photos of it all sewn in place. The undersleeves we also forgot to put on but they are of white silk with the ruffled lace that will extend out of the bottom of the sleeves with the lace landing right above the wrist.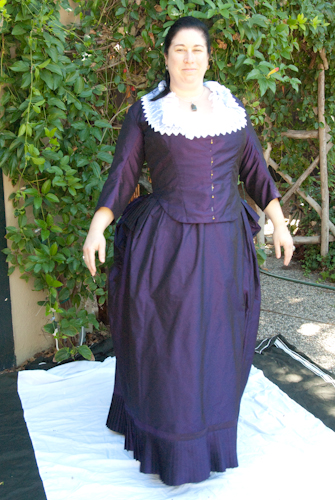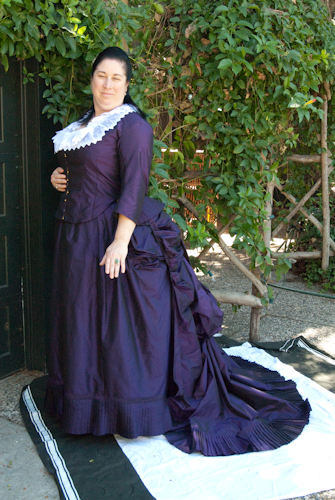 So we have the closures left to do on the bodice & train and the sheer apron with 2 more months to go, so I'd say we are in a pretty good position at this point even though I'm due to give birth anytime this month:) Baby just dropped and due in 4 weeks. Whee…
More detail shots: