Shoes, Let's get um.
My friend Lauren is up to no good again and has designed yet another pair of shoes! SHOES! Must have them! Oh wait sorry, I am getting ahead of myself. If you haven't seen them here is a photo she provided: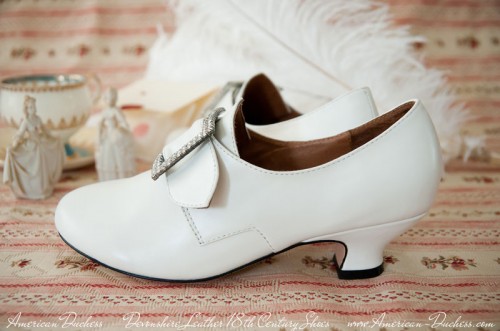 The Devonshires are a leather 18th century shoe based on museum examples from the 1760s through 1780s. They're made of top-grade dyable leather, with a beautiful, smooth Italian leather sole for dancing, and are hard-wearing, water- and mud-proof, for even the toughest of outdoor re-enactments.
Pre-Order the Devonshires through August 10, and get the special $100 price. We're only making 200 of these shoes, so don't miss the chance to own one of only a couple hundred pair on the planet! Visit American Duchess to order.
I own a pair of her silk Georgiana's and they are beautiful and so far comfortable. The leather version probably will be even more so as they can "break in" nicely to the shape of your foot I imagine. Anyway, go check out her site if you are interested.