On the plane: lucet cording
Yes I am in Hawaii this week! Yes I took a plane here. Yes I did have handwork with me that didn't include sharp pointy metal objects that may or may not have intimidated the airline security people ( I never know when they will take away my tools).
Lucet: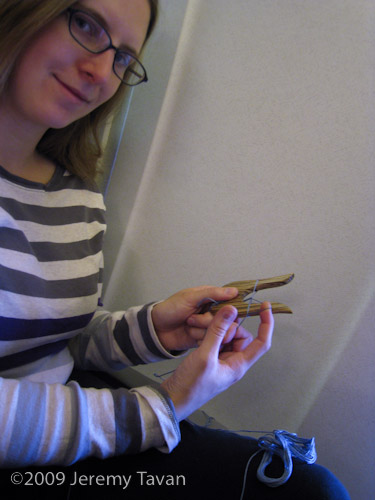 Here I am playing with my new lucet. I got a little over 1 yard of lucet cording per skein of DMC floss. I'm just learning to get the tension even but I really like the action on this lucet. The floss is much easier to use than the linen thread I got that was recommended for lucet cording. It seems that you have to basically relearn the tension you want with each different type of material you use. I think I'll be making some for my 16th century pair of bodies that is in progress. I'm glad you need less yardage for spiral lacing!
Nice and relaxing to just flip it over and over but it does get tiring.