Costume college: day 2 – Collections tour- LACMA: Los Angeles County Museum of Art
The first hour we looked at fashion plates and a study piece: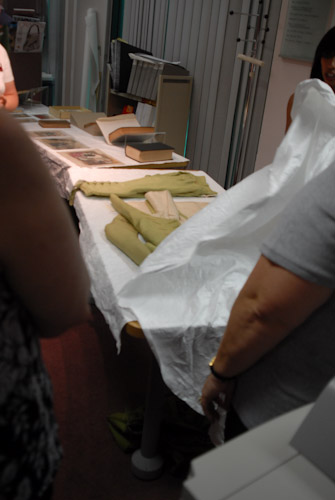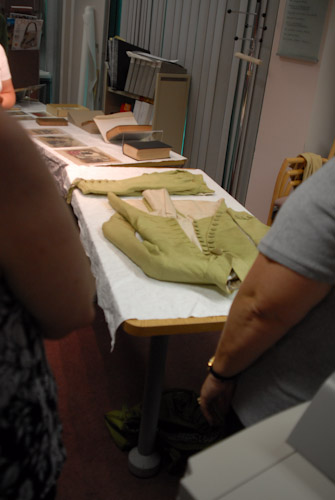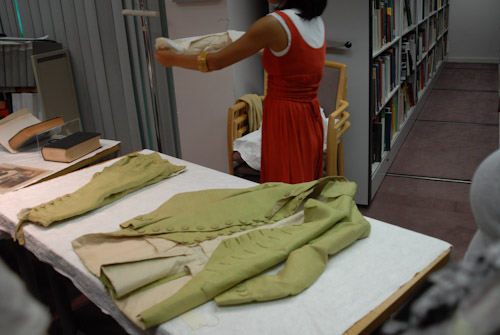 So we were asked to identify the time period. The collective costume college group said 17080-90. They then asked what seemed wrong? I answered "the waistcoat seems way to long for the coat for the later 18th century. I was going in the right direction with my thought. Once she lifted up the coat it was obvious – I had noticed there was something wrong in the proportions but had mis-attributed it. The waistcoat wasn't too long – the coat tails were too short!!!! :)
Check it out when it is picked up from the back: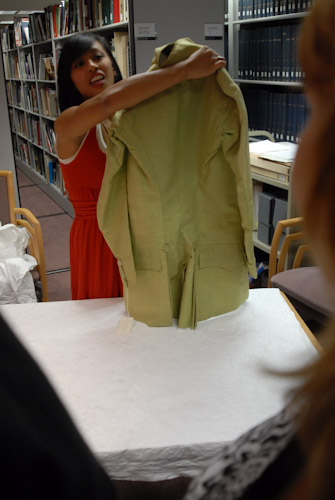 So at least my brain was seeing the problem I just had misidentified it because we were only looking at it flat on the table to start. Once you started looking closely at the tails you could see the stitch length was much looser and different on the bottom of what looked like a possibly "chopped off jacket". They said "Yes it was a trick question – we've given it a date but really we need to do more research". The group did well though- we were very close to the museums initial guess.
An item like this would be put available for research but in general wouldn't be put out into a display on 18th century items because the alterations have not been fully identified, they explained. The collar was also a questionable element. This demonstration was a fun way to see how the museums go about dating items and the questions that can come up.
I swear that my ornithology training on identifying birds in the wild has really helped for costuming. The skill of learning general characteristics that apply to larger groups and slowly narrowing in on the specifics for identification. Once you start learning the parts that make up different eras (just like once you learn the different families of birds), you start to learn and be able to identify more specific decades and sometimes even specific years (or in the case of birds, specific genus and species). It is just fun to watch my costuming "eye" develop (too bad I'm starting to lose my "bird" eye, if you don't use it you can lose some of it).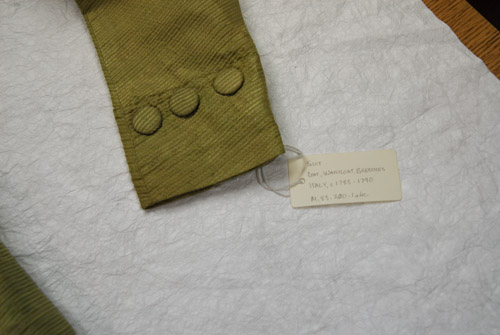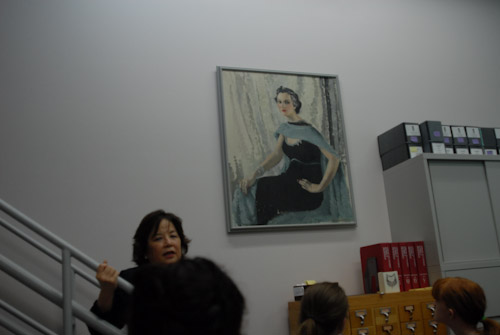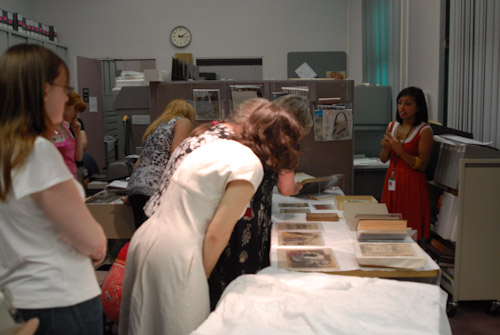 They were explaining how important the plates that were actually compiled and bound were for research purposes. Check out the color palate on the loose pages vs. the bound in these shots. I'm told all these are scanned and available on their website. But to see it in person and how *vibrant* the colors and images were was amazing. We sometimes forget that paint is going to fade with sun exposure and colors may not always be what they seem in the research images we have available. They showed us a few of the pages shown below: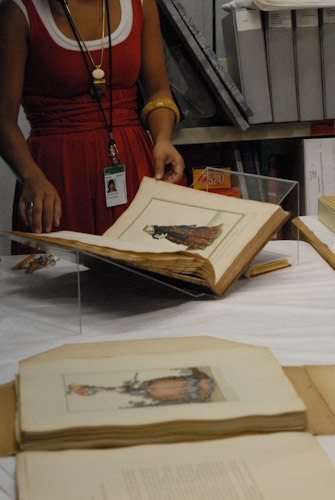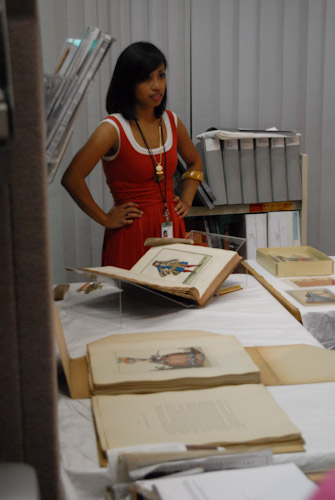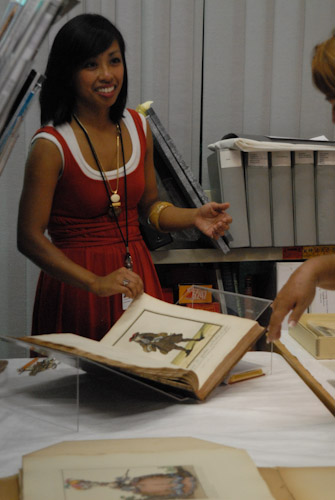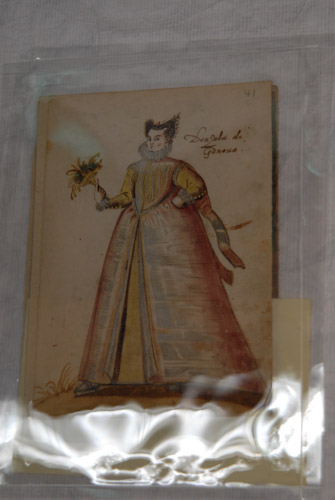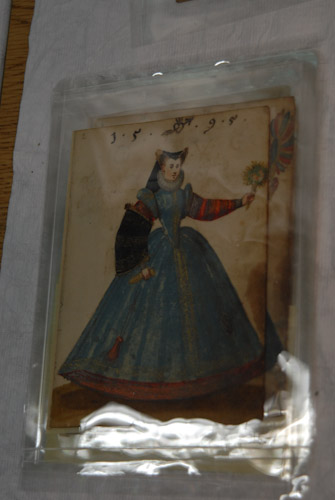 It was lovely to see this one in color: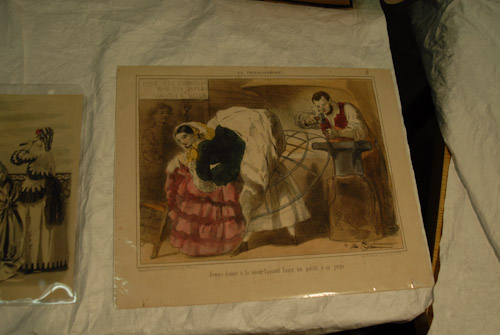 After an hour was up, we were taken in to see a sneak peek of the recent acquisition for one hour. No cameras were allowed but someone gave me their notebook and a pencil to sketch for them (because my pencil had snuck out of my bag somehow). It was kinda hectic. Always remember museums will allow you pencils but not pens for sketching.
I loved the way they presented each displayed outfit by starting with them in a circle all covered in white tyvek (the entire museum is transitioning to tyvek instead of using muslin btw because it does not stetch or catch on garments we were told). Each piece was then unveiled and we had almost a 360 degree viewing of most pieces. Then we got to ask questions about each.
I waited till they moved on from one to the other and sketched one while remembering and/or writing down the comments about the NEXT one the next page. We had but that one hour and it was a grueling pace for me to keep up with the sketching, listening, and working around the crowd of people. The lovely Cynthia who loaned me her notebook said she kept looking around and saw me in ten places at once. I was a mad woman.. or a ferret on crack as the expression goes.
At least I got some more experiences sketching. But really I'm rather embarrassed at the results but Cynthia was happy as she claims she can only draw stick figures. She says she will scan them in for me eventually. It was very very exciting ( I reiterate). I only missed sketching one item because it was a regency court gown that was way to ornate for me to capture. And I was already 3 outfits behind at that point :(
I could have spent all day there in that room :( The more I learn the easier it will be to do quick notes on items in museums where I can't take 20+ photos of each garment to study at my leisure. I always forget to identify some seam or something and want to see it "again" without taking a trip back to the museum. Study sessions at museums are going to be a must as I get more involved in the research side of costuming. *exciting* As you learn more of the terminology it is easier to do quick sketches and fill in details with words describing techniques, decorations, etc…
Press release quoted below for those who want to know more about the recent acquisition:
"More than 500 examples of eighteenth through twentieth-century
dress and accessories join costume and textiles collection
Los Angeles—The Los Angeles County Museum of Art (LACMA) announces the
acquisition of an exceptional European fashion collection that includes
approximately 250 examples of fashionable dress and more than 300
accessories for men, women, and children dating from 1700 to 1915. The
collection significantly enhances LACMA's eighteenth and nineteenth-
century European costume collection, elevating the museum's holding in
this area to one of the very best both nationally and
internationally. Highlights include a singular collection of complete
three-piece men's suits from 1750 through 1810; an impressive array of
women's dress documenting the significant stylistic changes that occurred
over the span of 200 years; outstanding children's garments of the
eighteenth and nineteenth centuries; and a wide range of accessories and
undergarments such as fans, hats, purses, shawls, shoes, and corsets.
This acquisition comes near the end of a year of significant acquisitions
for LACMA including a landmark fifteenth-century painting by Cima da
Conegliano, a contemporary African sculpture by El Anatsui, unparalleled
collections of both Pre-Columbian and Oceanic art, the Marjorie and
Leonard Vernon Collection of 3,500 photographs, and many others. LACMA CEO
and Wallis Annenberg Director Michael Govan noted, "The acquisition of
this transformative collection of dress—which has instantly propelled our
Costume and Textiles Department into one of the world's most pre-eminent—
is a wonderful addition to what has been a spectacular year for the growth
of our collections."
"LACMA will present an inaugural exhibition of its new acquisition in 2010.
Fashioning Fashion: European Dress in Detail, 1700–1915 will tell the
story of fashion's technical and aesthetic development from the Age of
Enlightenment to World War I. "