2014 Tweed Fairy Corset
A lovely combination of tweed fabric and silver vegan leather waist belt with matching edging with a touch of lace and embellishment thrown in. This lovely corset was quite a challenge for me. A few firsts along the way. I haven't sewing with vegan leather before and it was an eye opener. Teflon feet are your friend. I also have never attempted to attach lace, a waist belt and trim around it under all the boning channels. It was a fun exercise and was very successful. Afterwards I went through and hand tacked further along and through the pieces. But it seems like a very good way to attach detailing by machine and minimizing handwork with increases the price quickly. Anyway onto the corset: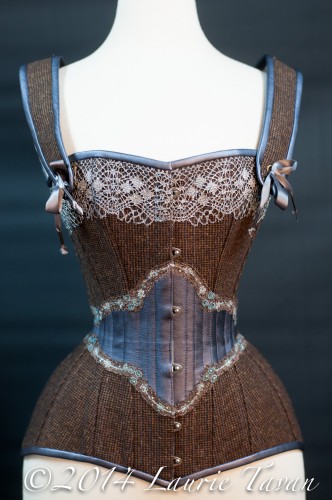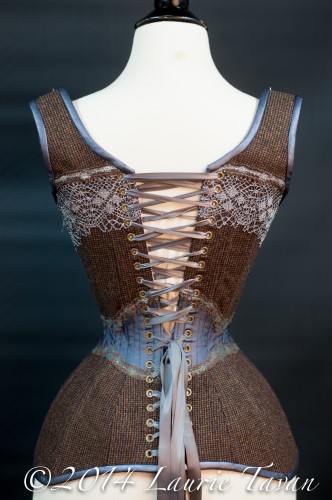 All fashion fabrics and trims were provided by my client from Britex in SF, CA. I was not convinced about the colour combo until she brought me the physical swatches and then I fell in love. That is the magic of working together on a commission with my clients one on one. I can bring to reality their vision and they bring me some ideas that I would have never come up left to my own. My client told me that she knew it would look good together but didn't realize really how good until seeing the first in-progress photos. She exclaimed that it so much more than she could really comprehend. It was a great compliment and I still smile to think about it.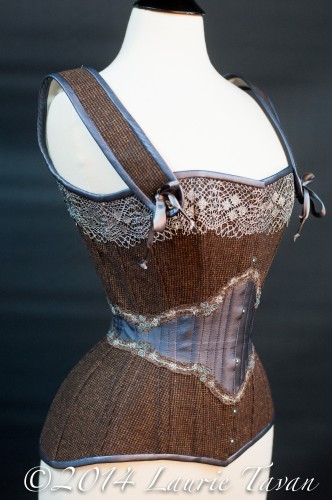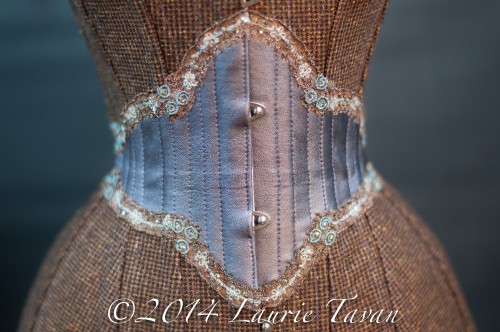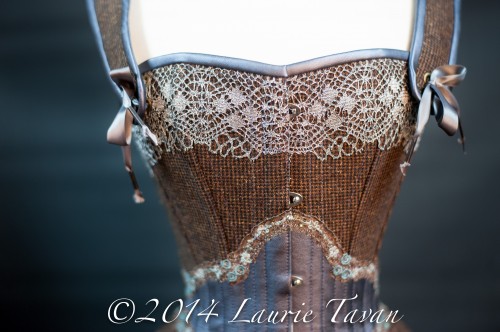 I really love being wrong. At our first meeting I really was thinking that I was going to try to suggest a brown vegan leather edging and belting instead of silver to pair with tweed. Turns out I was thinking too conventional and would have missed out on creating such a knock out piece. I've never thought about tweed as becoming something so delicate and feminine.