Marianne Wedding Reception Corset Collaboration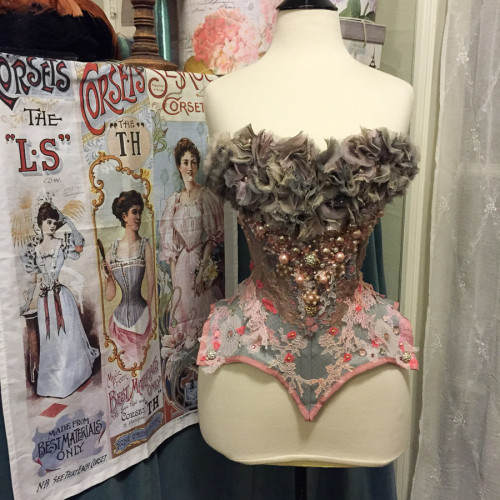 Now I slightly strong armed my way into Marianne's ( PopAntique ) wedding corset project. When Marianne told me her plan to pass her reception corset around, to be decorated by many makers, my inner self squeed with joy. We both have a strong attraction to pink and gray and I had purchased some Solstiss lace during the Oxford Conference of Corsetry that I very badly wanted to see on her corset. I didn't take a lot of convincing as she agreed immediately that I should join in the project. Yay!
We finagled our travel plans, to the Oxford Conference of Corsetry, so Marianne and I would get some time discussing the project on the plane. I thought I'd start the decoration then, but changed my mind. We both felt it was better if she didn't see any of the decoration applied to the corset, so the final reveal would be…well revealing and a big surprise. So while most of my lace was applied by Sparklewren (I did add some details from it to the final design) it makes me so happy to see it on her corset. Here is the bare corset awaiting the detailing and the lace I included in the project: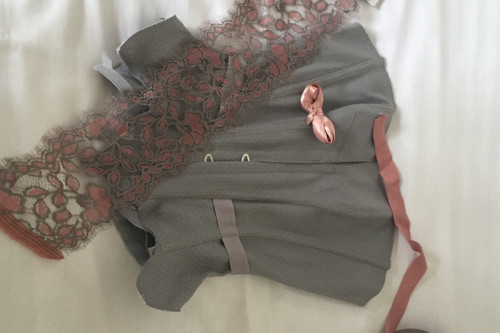 I have no idea how she trusted us all! The first thing the dawned on me was the effort it would take to collaborate long distance, with makers of different aesthetics. We had a very active discussion chat history scheming along the way. It was very helpful to talk and get others feedback to cull ideas, but also to watch it evolve. The timing was pretty tight but it all happened and was completed in time.
When the corset made its way to me the majority of the work had been done with some elements needing to be pulled together along with final construction finishing work.
Here is a shot of the corset as it arrived after its travels to Jenni of Sparklewren, Karolina Laskowska, and Hannah of Neon Duchess: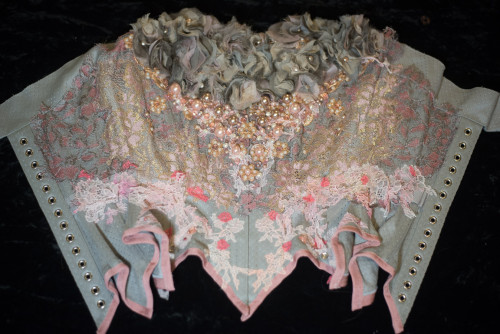 Marianne sent us a progress shot of her skirt in the brilliant pink color, so I pulled in more of that colored lace into the upper edge of the design, incorporating more of the gold with pearl trim and some gorgeous large antique rhinestone buttons. This detail appealed to me as it harkens back to encrusted pearled,jeweled billiments you would see in Tudor gowns. I extended all the detailing into the back panel as well.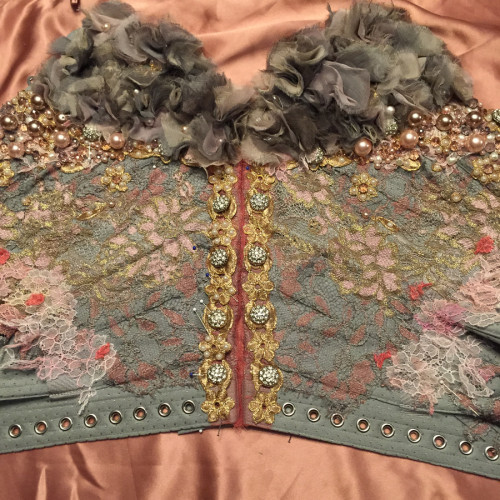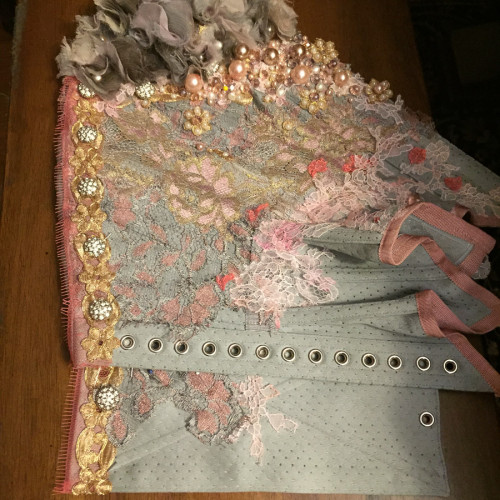 The back hips were a bit sparse so I added in some cut flowers from the lace & ruffles along with some gold beading details: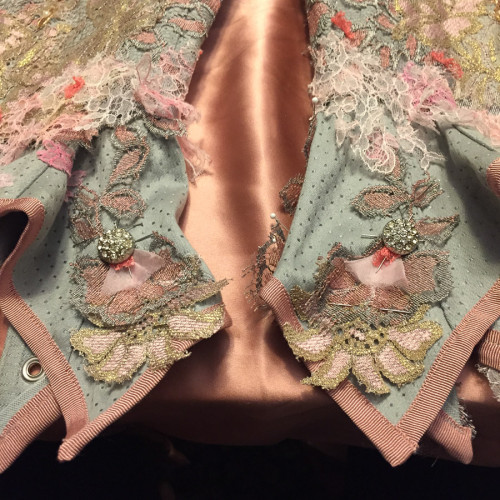 And my favorite part is a little gold filigree heart I used to finish off the bottom point of the beading and ruffle work on the front of the corset. I have only a few of these hearts left and I'm glad one graces this corset.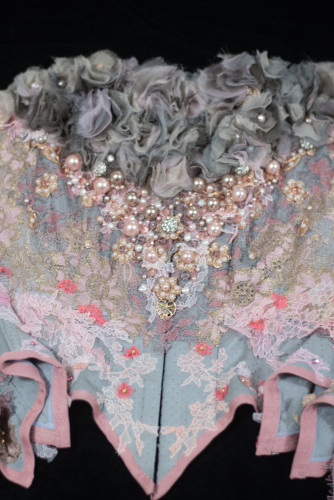 I have to say, what an extravagant corset! It was an honor to be involved, in this little way, in Marianne and Morgan's wedding. Thank you for including me Marianne.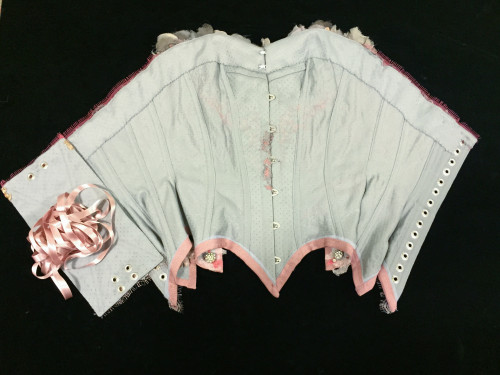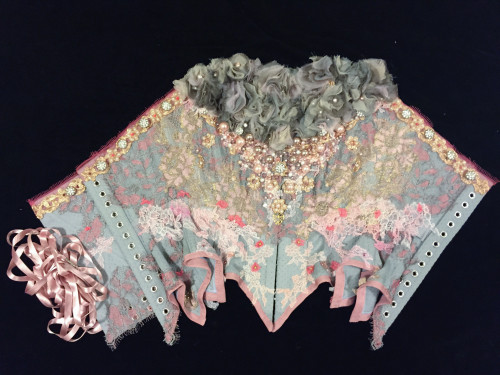 And the bride's Blog post where you can see the completed corset on Marianne.