Hand binding over grommets
I don't often have enough time to hand cover grommets. Yesterday my fiance was testing or fencing instructor through the San Jose fencing Masters program and I watched (sewed) for the entire 8 hours. Tonight I worked on a few more of the grommets and have a few more to go!
Here is an improgress shot: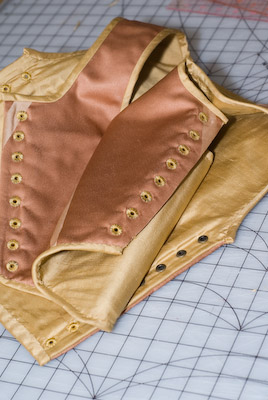 These are bound in all purpose thread identical in color to the silk lining as that is what I had with me when I got the hair brained idea to bind all the grommets. I had intended to just finish hand sewing the gold binding. Keeping my hands busy kept me from trying to crawl up the walls from all the sitting. I'll have to remember to take bodices on road trips/airplan rides to cover grommets from now on.