Creamsicle Corset for Sale- corset SOLD
I will be taking inventory, measuring, and photographing samples in the shop this week and listing them for sale first through my email list. You can Sign up HEREto get first peeks at what is happening in my workshop and on sale pieces.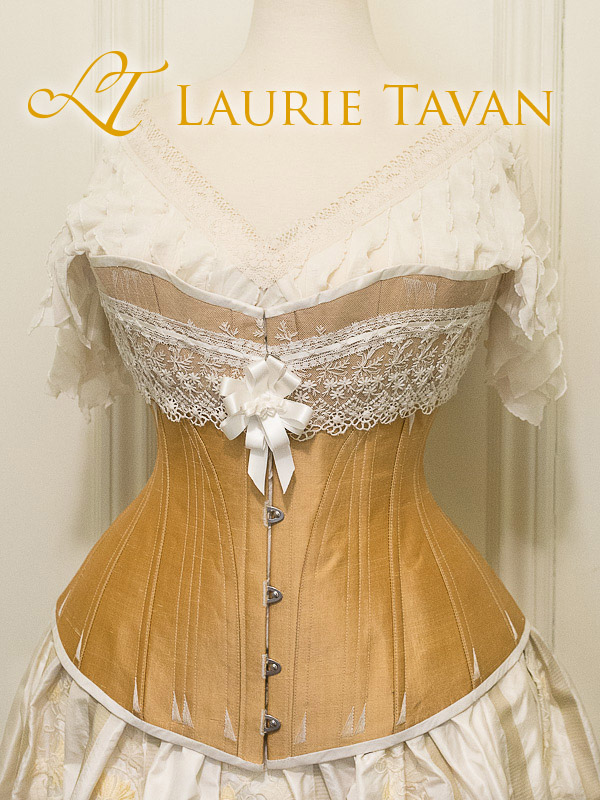 SOLD
I also have the coordinating embroidered, unlined cream skirt to coordinate. It is done up with front and back waist bands so it can fit many different waist sizes easily.
For skirt only- $200 US:
Here is a great piece I made based off a historical pattern from a magazine. Here is an example email:
Welcome to your prettier inbox! Thank you for opting into my email newsletter. In the footer of this email you can easily change you preferences or unsubscribe at any time. Remember I mentioned I'd be offering some of my designs for sale here first, well today I have one of my personal pieces up for sale. My Creamsicle corset was worn by me for a few events and then has been worn for 2 recent photoshoot with Laura & Rhawnie coming in to show off the beautiful shaping.
I'll share a bunch of photos of this corset modeled by both these models at the San Jose Woman's club (75 S. 11th Street, San Jose, CA 95112), where my workshop & showroom are located upstairs. If you haven't visited and are local or visiting the bay area soon, get in touch and schedule a visit (laurie@tavan.com or 408 202-4179).
Creamsicle. Photographer: Martin Ave Photo; Designer: Laurie Tavan; Model: Laura Rubin
This corset is based off a La Mode Illustre magazine pattern that I scaled for my body proportions. Here are the basic approximate flat measures for you to consider.
Horizontal circumference measures:
Mid-bust: 41.5″
Under-bust: 32″
Waist: 27.25″
3″ down hip: 36.25″
5″ down hip: 42″
Some other possibly helpful measurements. For those who can stop by, please get in touch and we can arrange an appointment for you to try on this corset.
Vertical measures
waist to bottom center point: 7″
waist to top center edge: 6 5/8″
waist up to top of peak of bust: 8″
waist down to lap 4″ over from centerline: 6 3/8″
CB length: 13″
Peaches n' Cream. Photographer: Martin Ave Photo; Model: Rhawnie Pino; Designer: Laurie Tavan
With Jewels & drink. Photographer: Martin Ave Photo; Model: Rhawnie Pino; Designer: Laurie Tavan;

Your text caption goes here
Details:
-Outer peach silk fashion fabric
-Cotton coutil strength layer
-White silk lining & matching hand-cut and hand finished silk bias tape on the edges
-Applied embroidered net along top edge with Solstiss beading lace run through with silk ribbon and finished with a silk ribbon bow
-Polyester double faced ribbon for back lacing
-German metal busk
-2 piece metal grommets
-Hand stitched cotton flossing at the ends of the bones
-20 total flat steel bones

Edwardian Bridal look. Photographer: Martin Ave Photo; Model: Laura Rubin; Designer: Laurie Tavan
Here is a very recent flat shot, the shaping is deceptively straight since you can tell it is a very curve-ful shape on a body. When corsets aren't made with the modern side seam you do not "see" the shape or curve potential when flat.
This corset is in excellent used condition. I found one small spot which you can see nearby the third grommet up on the right side in this photo.
This is the corset pattern this was drafted off of and is very similar in design except that I did not include garters or garter tabs. Those could be added.
Stitching, lace, and ribbon detailing.
I just received the perfect sized box for it in the mail today! Please get in touch for a shipping quote.
The corset is a nice pastel peach and not as orange as the final images in the tungsten lighting. I am offering this beauty at 50% of the price to custom commission something of a similar vein so get in touch if you are interested! This is a very special and ornate corset with a lovely dramatic shape.
I'm asking $800 US plus shipping (sales tax for CA residents). I can take a deposit of $150 and two additional payments if you need a payment plan. I can accept paypal or take credit card payments through my invoicing system. And for those local to San Jose, I have this one and others for sale at the shop so please do get in touch to make an appointment to visit (laurie@tavan.com). Slowly but surely I'll be measuring & listing my samples through my mailing list first. Sunday I will list this for general sale on my website if it has not been snapped up yet. The coordinating skirt is available as well for $200 US – embroidered silk.
Thanks for looking!
/Laurie
408 202-4179
You may also like...