Silk cravats: 2 ended up on hats!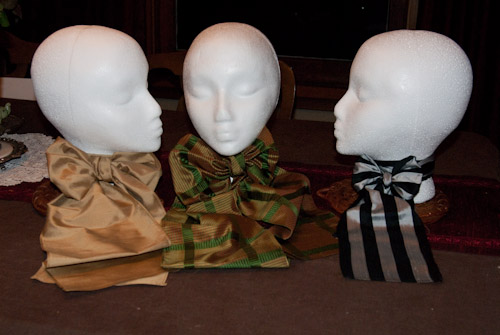 I made up a few cravats to sell but none of the men were interested.
The pale gold one ended up being purchased by a lovely young lady to cut in half to make bonnet ties. The middle green/red one (my favorite) was cut and applied to my Miss Estella bonnet to spruce her up for this year. I even found her a new shawl that ties in with the new bonnet ties. Not matching but a perfect combination.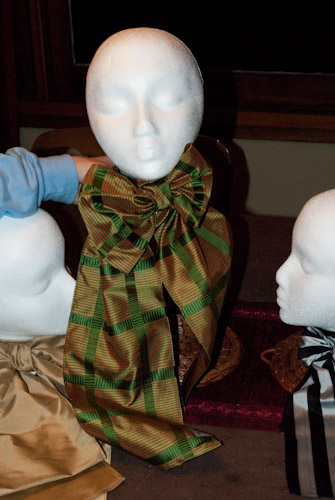 The final beautiful stripped one (a custom run striped fabric) is going to get lengthened and maybe purchased to actually be used as a cravat!
I do not think people appreciate how much fabric and time actually goes into making these. I am doing them 2- 3 yards long. Why so long you ask? Because when you do them very short you can not accomplish any of the more interesting cravat ties. Sure you can take a short scarf, wrap it around once and slip it down into your waistcoat.
But you actually start your cravat by wrapping it around from the front first, around back, and then back to the front before even starting to "tie" the thing. These are all done as single layer with fine roll edges. I'm doing them a minimum of 4″ wide. I think I prefer 5″+ but can do wider with very lightweight fabrics.
As you get wider you want finer materials otherwise the bulk will start interfering with your ability to tie your cravat. Yes a double layer cravat may seem like a good idea but if you try to tie it into anything fancy you will find the bulk is a real detriment to knots. You want to be able to snug them up nicely as needed and not have them work their way loose.
Anyhow, I've found my silk cravats lend themselves well to becoming bonnet ties. It can be rather expensive or difficult to find wide enough ribbon to really create a convincing 1860s bonnet tie so these can be a charming substitute. In fact, all my current bonnets are made up with "fake" ribbon ties made from fabric.
I did purchase some yummy orange 2″ wide petersham ribbon though at the Dickens workshops though… now to design a hat around it.