Livermore Scottish Games: the Needle's Eye
Packing for the event: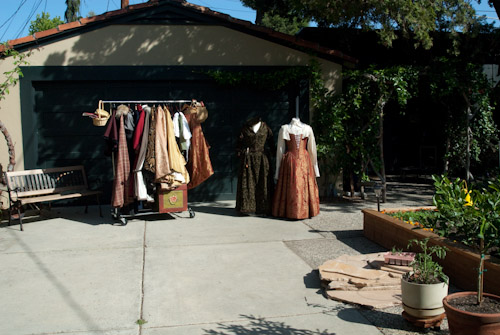 We had a successful, albeit disgustingly hot weekend up in Livermore, CA this weekend. Our group decided to try out a new theme. We portrayed a tailors shop displaying garments and actually hand sewing portions of garments on site. The goal was to demonstrate and teach about sewing in the Renaissance. I found that people were much more willing to come up and ask what I was doing when working on a beautiful gown rather than when I'm wearing it. I had tons of fun showing people people what I was up to. I was rather surprise at how many people had such great questions and how many walked *into* the tent to talk to me! I was set in the back corner with the side walls open and people popped into the talk from both the side and front of the pavilion.
It was a very relaxing and enjoyable way to interact with the patrons. Don't get me wrong, I love seeking out interactions and took the opportunity to go out with "the Peanuts" dressed in my peasants to interact in the streets, but working on things I love and having people come up to me with genuine interest – that felt amazing.
It was nice to be out sewing purely for fun & to educate people. We even washed out linens and laid them out flat on the lawn. Boy was I impressed when the red stain on my apron came out purely from being dried on the grass! I know I've always been told it worked but I hadn't done it myself. Not only did my apron and table linens appear cleaner with no soap but they came out poker straight as if I had ironed.
What a great triple digit temperature weekend! And yes, doing laundry was a great excuse to cool down.