Linen Bodies: one half started
I've finally started some bodies for myself and hope to get in some work on them here-and-there over the next couple months. I've sewed the boning channels on half. While I am sewing them primarily by machine I decided not to machine back-tack but to pull the threads through, knot them & then pull them hidden back into the lining. Time consuming but very clean and neat looking.
Here is the progress: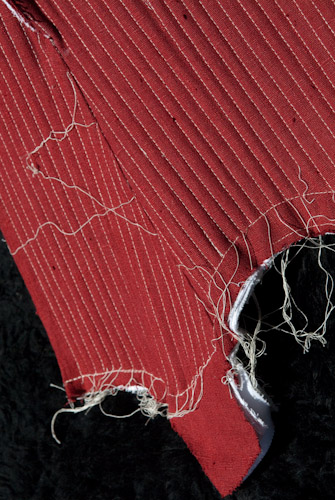 [Red medium weight linen, two layers of domestic coutil, and a layer of lightweight linen for the lining. Boned with 1/4″ & 1/2″ reed]
I haven't decided yet if I'm going to have them lace front and back. That was my intention when I cut the fabric but I might decide to whip stitch the back together. That way I'd still have the option later to take them apart and put in eyelets. Planning for unanticipated weight gain seems prudent considering how much time it has taken my to even start a pair of bodies for myself. I've been wearing a beautiful set that are way too small on me for too long!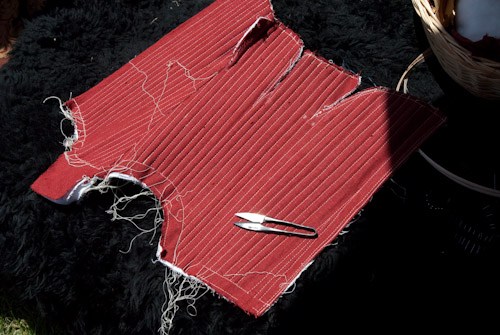 Dangling threads waiting to be pulled through: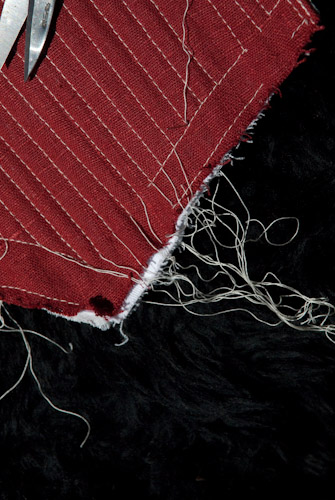 Interior: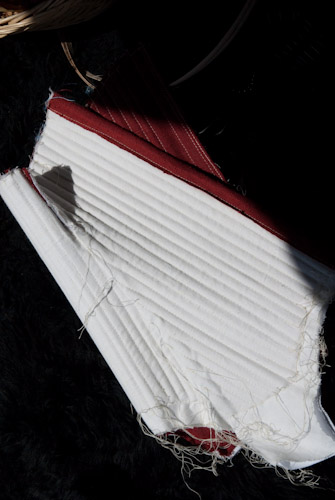 I was hoping to get started on the eyelets but didn't get around to it this weekend. I guess I should sew the other half first before getting into to much of the detail work. I'll leave that for long car trips – like the upcoming trip to the Valhalla Renaissance faire. The first weekend I'm being knighted by Saint John's of Jerusalem but I don't know which day or what time. I was tempted to finish my Florentine gown for the knighting but I'm not sure I want to drag it around in the dust…
Decisions decisions…now I'll run back to work on clients projects instead for the rest of the day. But if I can convince myself to get out of the house, I'll be making a trip to pick up some leather for binding while sourcing some leather for another upcoming project.
To do list:
finish surcoat hem
add trim and clasps to surcoat
linen shirt
linen coif
pattern drafting for 3 corsets
research for a gown
sample embroidery swatch
pattern draft a waistcoat
purchase supplies for upcoming projects
source wool and linen
complete underbust corset
cut out a different underbust corset
sample quilting swatch
source fabric for doubet