Green up your production: scrap use & zero waste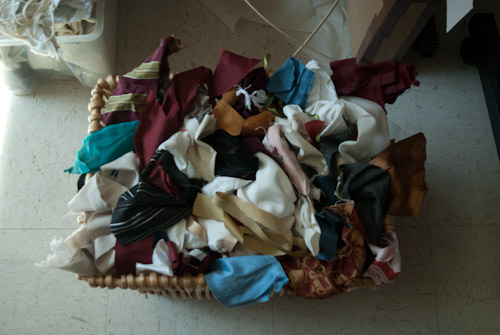 Why buy yardage for miniature projects where there is so much waste in the world that you can harness!
I always keep my *scraps* for future use but now larger companies are taking note of the benefits of running waste-free production and are doing the same. For example, I ran across a new product from American Apparel called "Bag o' scraps". So not only are they encouraging use of their waste they can make a profit off them.
Believe it or not, a bunch of pieces for my Florentine gown were pulled from the scrap bin.
Anyone who adores fabric can't throw away bits and pieces. My *green* cabbage bin sits under my cutting table snatching up my small remnants. I can't tell you how many times people have told me "I'm so glad I'm not the only one who can't throw away fabric". The term *scraps* has taken on some negative connotation when really it is just describing something leftover from a larger whole. I for one adore many types of leftovers, whether food or fabric related! I just eat um up whenever I can.
I like the term cabbage and use it without realizing people have no idea what I am talking about.
While I have heard the term used in the fashion industry I initially was told it came from a much earlier time period and references the fabric left over after an garment was cut by a tailor out of whole cloth purchased by their client.
An article from Colonial Williamsburg mentions the term cabbage in this sense: " Apprentices began by performing menial shop tasks. Gradually, they'd learn skills. Sewing often was the first. Youngsters would collect cloth scraps, known as "cabbage," and practice needlework with them. " I'm currently involved with the Needle's Eye re-enactment group portraying a tailors shop & our bins of fabric scraps come out to events to demonstrate such usage and have been a bit hit with the youngsters.
Check out these website for some idea on how you use up your scraps:
Free patterns and Ideas for scrap usage
Historical fabric buttons
I'm currently using the small cuttings leftover from cutting out a jacket to create the matching fabric embroidered buttons using these button molds available for purchase from Wm. Booth Draper.
Even more fascinating though is the idea of zero waste. This surely ups the ante. I wouldn't even know where to start to draft items like these but they are sure worth a look if you haven't checked them out yet:
Zero Fashion waste blog
Great article:
Fashion Incubator Zero waste
In an effort to get more of my leftovers used, I will send along some scraps from my workroom to the first person who comments here on my blog that they want some. I will contact you privately for your mailing address – yes I will ship international!