Red Silk Wedding dress: fabrics
This gown was completed and delivered last week. I hope she enjoyed wearing it on her big day: 10/31/2008. Here follows the beginning of the dress diary:
Starting out my client knew she wanted a red wedding dress. She had examples of heavily ruched and pleated dresses as well as with some gorgeous 1950s dresses. Another gown in her examples featured a decorative petticoat that was intentionally showing. We decided the dress would definitely be knee-calf length with a decorative petticoat and a pleated bodice. We poured over pieces of fabric and lace in my workroom.
These are an example of the general idea of what was going to be sourced for the dress: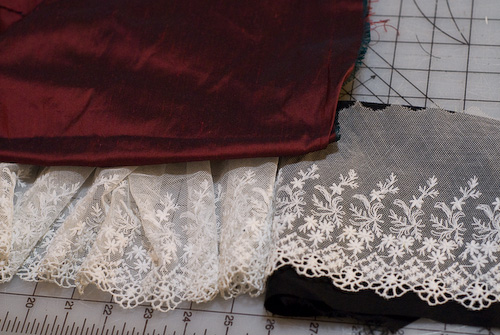 Of course the color would have to be the exact right "shade" for her complexion and taste. And the lace or embroidered netting needed to be light and airy not heavy or crocheted.

The bride planned a trip to LA and purchased the fabric and embroidered netting. The final netting would have to be a fabric rather than an edging for the design we had in mind. Finding fabrics that spoke to her was the goal.
Netting with an machine embroidery and embroidered scalloped edging: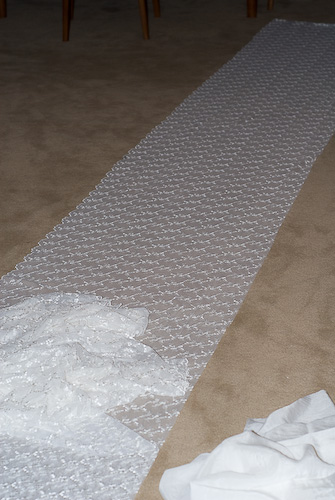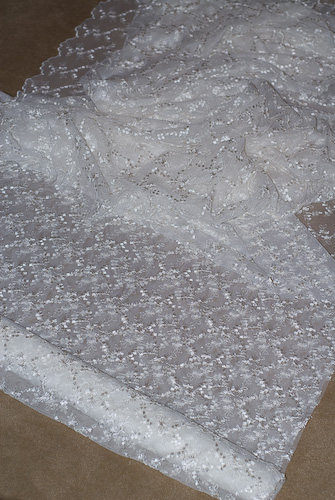 As I already mentioned, the bride, Michelle, had a fairly clear idea of what she wanted. We worked together on a design knowing that we'd "play" and try some of the ideas out as we went.
Final fabrics: red silk and off white netting: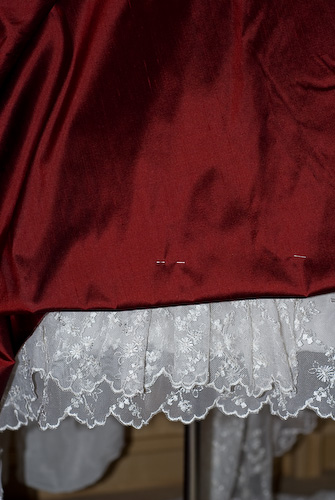 I could tell from the start that this was going to be a fun project! Prior to starting the gown a corset was completed from some peach and cream silk she also sourced while in LA. You can see her corset in the gallery.