A bunch of updates
Finished hand binding all those grommets! Continued working on the new chemise with some lovely progress. Here is a photo: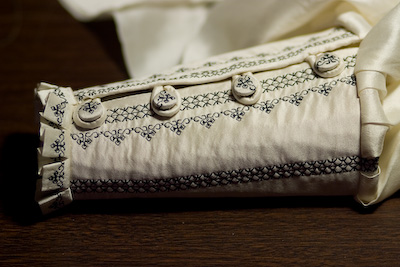 In other news I've started a Cranach gown from a few yards of upholstry fabric from when I was shopping up in Reno, NV. I only had access to 1.5 and a 1 yards pieces (luckily 55″ wide) and 0.5 yards of a matching fabric in an alternate pattern to plan from. The skirt will be more tubular made from two widths of the fabric – I'm lucky that they repeat made it possible to use the whole width and still line up the designs at the side seams. If all goes well I'll also piece out a italian bodice to wear with the skirt and two pairs of sleeves. I'll insert some left over black velvet from another project to make this feasible.
I'll take photos soon!