Red Linen pair of bodies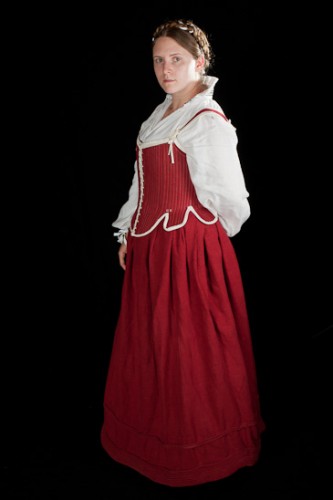 I realized I didn't have any good photos of these so here are some quick studio ones. This is after many wearings at events over the past two years but they are holding up very well. Made out of Red medium weight linen, linen canvas, bound in white kid leather with linen lining. They are boned with half round canes. The front dip is just short enough to sit crossed legged on the floor without too much trouble. My next one I will lower the top edge a smidge and widen it so the points are further in the armpit so the straps sit a bit wider.
Worn over my corded petticoat (which I usually wear over the tabs of the pair of bodies) I put in lacing holes in the lower part of the bodies to tie on the skirt but haven't adjusted the skirt to do so! But that is the plan.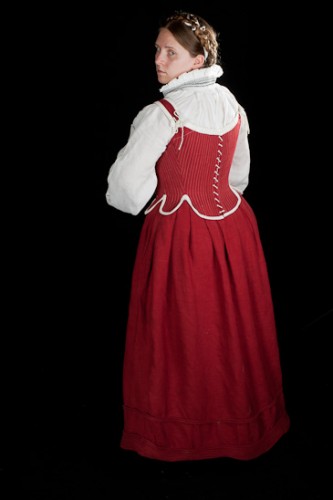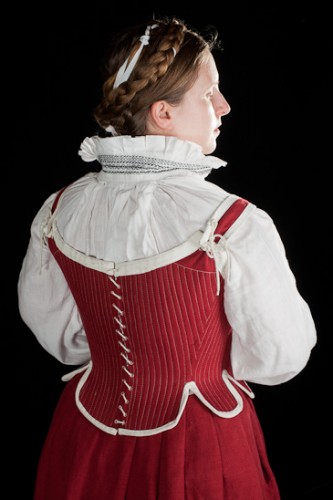 Next time I'll also makes the straps only tie in front instead of both. I also laced it up the back for ease of adjustment which helped while I was pregnant.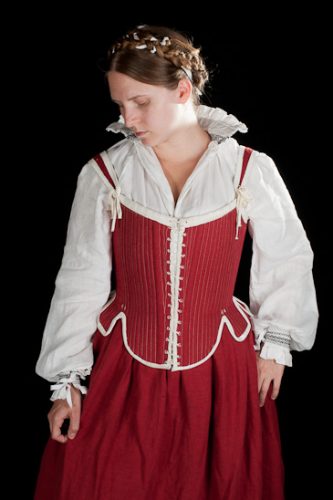 These are the most comfortable corset type thing I've ever worn at all day events. The tabs at the waist are amazing. I tried to wear a gown without them and I was so exhausted by the end of the day and my waist was so uncomfortable from skirt strings digging in all day.