Queen Victoria revamp: adding a band of blue
I found this larger width blue cotton and decided to use it between the other two to tie in with the blue lining and blue fringe that will be applied to other portions of the gown. The alterations were approved so here is the blue band sewn on to the top two tiers thus far:
Wrinkled but showing the trim: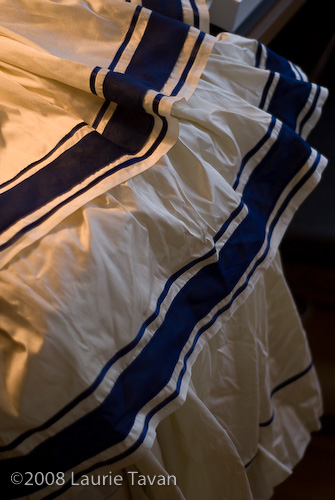 The original design,by Kathy Kingman, called for 4 narrow rows of trim (only two were ever applied) as well as a hanging fringe around each tier. The costuming department sent the gown home with me for some addition of trim to the gown. A blue fringe will be done once I have made a new bottom tier.
The gown has served us well for multiple years but a nice little bit of new touches will spruce it up for the upcoming Dickens season. I also have the cape to work on but that might not be done until Thanksgiving.