Pisa, Italy: A gown of a duchess – court dress of a Madonna
Some of use went on an optional trip to the Laboratorio Centro Restauro Tessili in the Cittadella of Pisa for a private viewing of the Renaissance dresses from the Museo Nazionale di Palazzo Reale. I'm going to share some photos of what others have dubbed the "new" Eleonora di Toledo gown or the "red" Eleonora gown: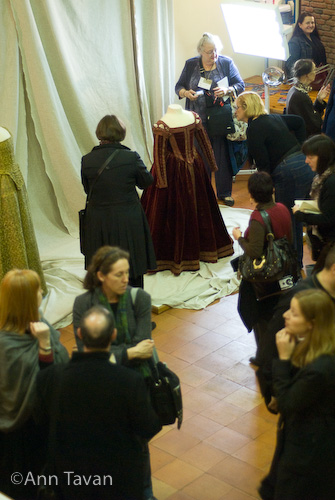 A class was taught on the conservation of this gown showing the process of reconfiguration back to the original design (Una veste da Duchessa: l'abito di corte di una Madonna pisana/A gown of a Duchess: the court dress of a Madonna in Pisa- Moira Brunori (Conservatore di Tessuti e Costume, Pisa)).
No flash photography was allowed but they did have a large light on one side. This actually made it easier in some ways to make observations and view the gown but made it MUCH harder for me to photograph any of those details.
EDIT – I have been informed by the director of the center of Textile restoration of Pisa that images of the gown were not to be shared with the public. This was not made clear to us when we attended so I've chosen to remove them until further notice with this new information. I imagine they will eventually be publishing their work and it makes sense to want to protect the information until such time. Please see comment below.