My first ever gown – upcoming auction
When I was still in college my now Mother-in-law Ann made me a pink bog dress for Halloween. I went to my first Renaissance Faires in 2001. I was so proud of that pink dress she gifted me but she determined it was time for me to sew my own.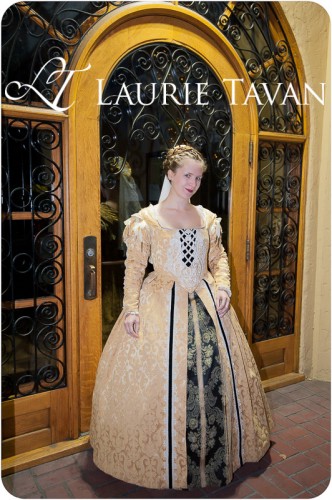 I wasn't convinced by the colour gold but fell in love as I sewed it together. I'll try to sift out original photos from when I wore it to Scottish events in Northern California in the early 00s. It was originally gold and burgundy. Through the years it has seen many alterations. Ann walked me through the entire construction. It was the first "gown" I had ever made. I had made doll clothing and stuffed animals up to that point and maybe an apron in home ec class in middle school.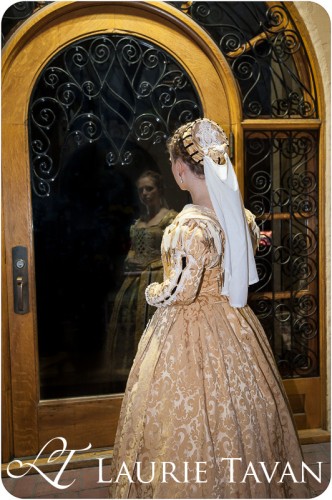 "Looking forward, Looking back"© Tavan Photography- I am wearing my first gown that started my adventure into starting my business making custom clothing peering into the front door leading to my new space at the Woman's club in downtown San Jose.
The detail shots of the gown in its current incarnation are on Flickr. This gown and many other of my personal costuming will be sold on auction to help fund the move to my first non-home based work space!
Details on the auction, how to bid, and measurements of the dress forthcoming.