Gold Gown auction upcoming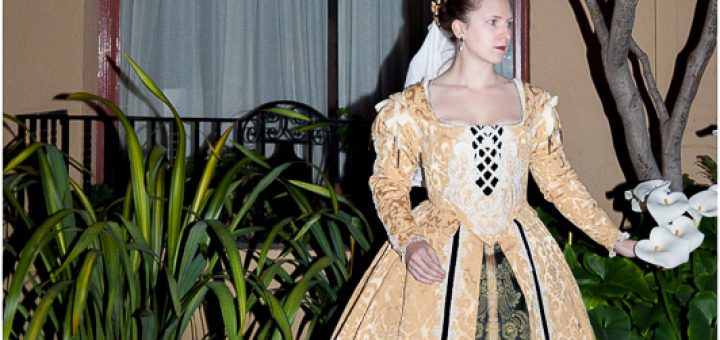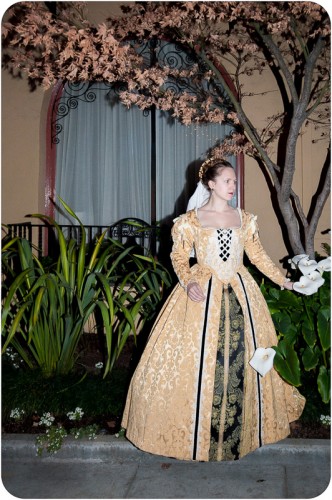 A great Pretty Pretty Princess gownn or for a playtron or someone just starting out at Faire:
Detail shots of first dress going up for auction later tonight. I currently wear a size 8 pants and a size medium shirt and it fit with a 1.5″ gap in the photos- I am 5'5′ but the dress could be worn with a smaller hoop or a corded petticoat for a more Italian look and would be longer. It can also be let down a bit for length.
———————————————————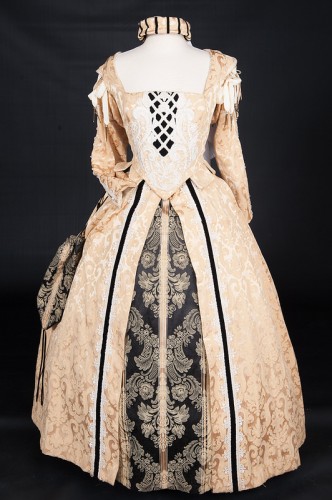 Details can be viewed in the Gold Gown set on Flickr
Current measurements of Bodice (largest is with full width of modesty placket included), bodice edges were folded over and grommeted to make smaller a few years ago):
Bust: 37″-41″
Waist: 29.5″-33.5″
Sleeves: 21.5″ in length, 16″ interior circumference at top of sleeve head
Wrist" 8.5″ interior circumference
Skirt:
Waist 28″-35″ (currenly has a big tuck taken in back to make it smaller)
Front length: 38.5″ (about 2″ in hemline has the trim so it could be let down)
Back length 41″ (looks like you could let out 2-4″ of hemline to lengthen).
The forepart is just safety pinned to a hoop.
The hoop skirt was something gifted to me and is not the perfect shape but it will be included if desired. It was made with a spiral bone going down it and elastic waistline which has a ribbon crudely sewn on to make it actually stay up!