Effigy bodies inspired design
I am working on a great project mimicking the design of the elizabethan effigy bodies as shown in the book -The Tudor Tailor. The final pair of bodies will be made of 2 layers of linen and 2 layers of cotton coutil. We considered finding a fustian (cotton/linen) blend for the strength layers but I love using the coutil that I know works well with the bones I will be using.
First step is patterning. The pattern is based off a set of 30 measurements. Preview: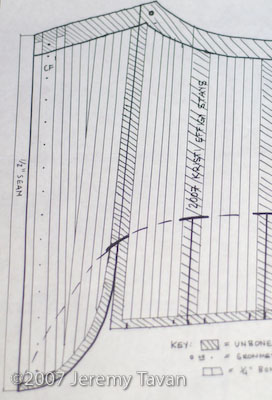 The final draft omitted one set of tabs and had a fuller front panel which worked lovely. The final draft will incorporate another seam to allow me to pattern in more room for the clients ribs and get a more conical shaping. Yet again my pattern will drift more away from being historically accurate by adding in the back lacing and another piece to the pattern.