Bright Linen corset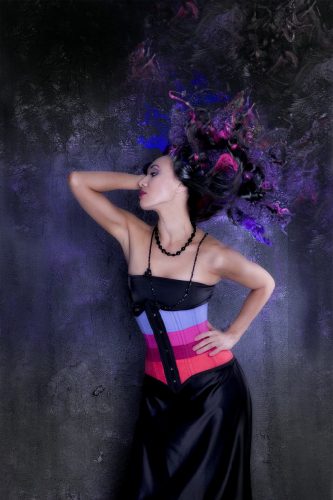 Model: Michelle Surya
Crew:
Photography by Christiane Posl
Hair by Elle Duerr
Hair by Megan LaCore
Corsets by Laurie Tavan
Styling by Gina Laughlin
Makeup Apprentice Heather Nunes
I love how this image turned out. This was a last minute addition to the shoot as the model had already been styled as a mermaid without any of my corsets but I adored how her hair went with this specific corset so she was a trooper and waited an additional 2 hours in that huge hairstyle to shoot another look for me! The photographer had this awesome backdrop she had painted herself that she pulled out just for this and I think it worked perfectly.
It was a last minute addition that just really came together. Sometimes that is the beauty of such collaborations. All this works goes into it and at the last second even more magic happens that you didn't even anticipate. I cut this corset out in 2006 and picked it up recently on a whim and finished it – It was meant to be…
Here it is finished on a mannequin, not as fun as the photo above!: