Blue & Black underbust corset: lining & grommets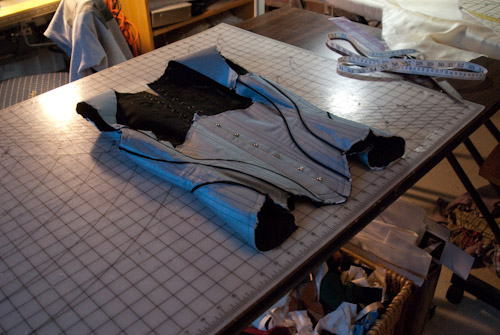 This is an experimental design with a flat front, curved bias seams (dramatically decorated with black silk satin bias), split hip panels, & a high back with straps. The back panels have ease in them for an aerialists muscles. So while it currently wrinkles a lot on the mannequin, I can't wait to see how this actually works on my client. I am trying something new and sometimes new things fail, but it is very much worth my time & effort working on research and development. This sample will be fit without the binding so that final adjustments to the edging can be drawn on during the next fitting.
Tapered busk: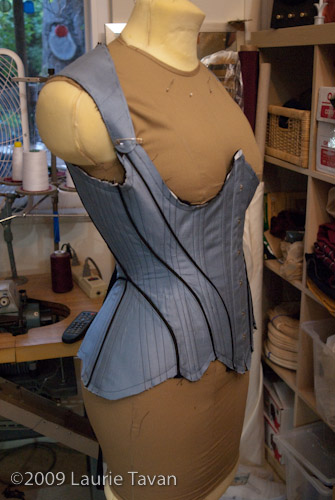 The mannequin it is currently displayed on does not fit the corset well but you can get the idea of the final look from these inprogress photos. I hope to tweak this design into something beautiful. Even with flaws I think it is looking pretty spiffy.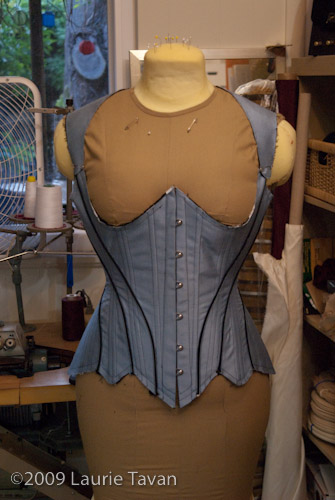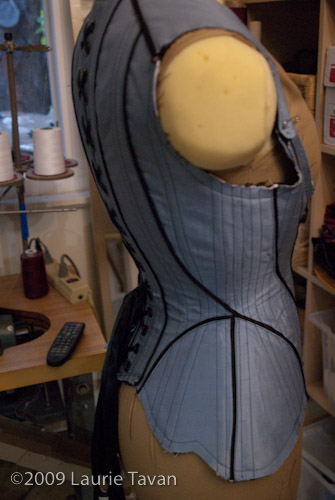 Displayed along side my most recently completed client commission: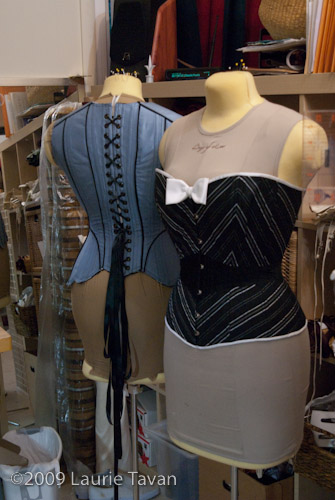 The fashion fabrics used in this piece are left over bits from other projects that I keep around for sample production. I of course hope it turns out lovely enough to be another example to add to my portfolio. While this corset is made in fashion fabrics it is *not* the final client corset but a test run of some of the techniques I'll be using to construct the final corset for a client.
Here is some of the process that got me to this stage:
Waiting for rest of lining to be sewn in: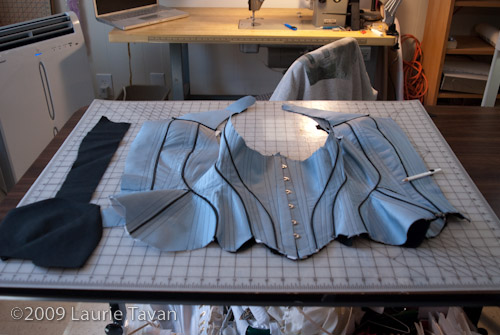 Hip panels were sewn in last by hand: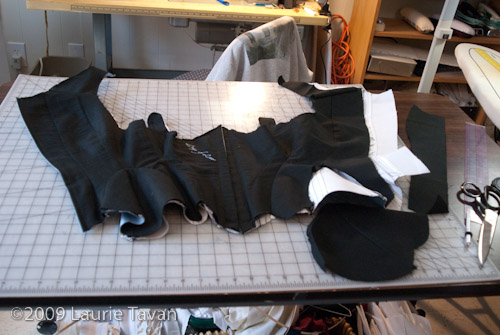 Front edge with hip panels pinned in place: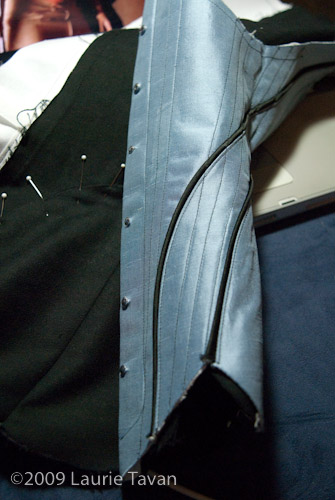 Getting ready to mark the grommets: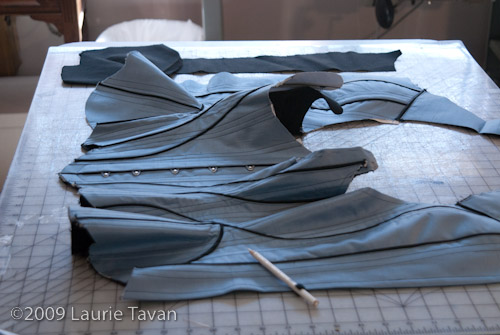 Sewing boning channels over piped seams was a new skill to figure out. I'm still in the process of coming up with a technique to do this smoothly and consistently. I'm picking up some industrial compensating feet for my Juki's to see if they will make the transition over the lumpy surface easier. The feet are called *compensating* because the edge guide is spring loaded to deal with different thicknesses of fabric. In the past I've created shims to prop up one side of my foot when sewing along ridges but I'm sewing over the piping at an angle. It is possible the compensating feet will nothelp because I am not staying parallel to a thicker surface but sewing diagonal across it. I think the feet will still be a good addition to my tools regardless.
With the bias panels in this corset it is very important for the boning channels to run from top to bottom to support the fabric. After a fitting on a real body I can start to work out where the support is needed most to minimize the wrinkling. Running bones along the seam would remove the need to sew over the piping but would not create the final desired shaping and support for this design. So another small square of piping sample will be made up to test the feet when they arrive to see if I can get more precise boning channels sewn.