Black Dot coutil corset sample piece
I decided to pair this luscious black dot coutil with white lace and white stitching. It was actually my husbands suggestion to add the red taffeta binding. I really like how striking it is :) Way to go husband!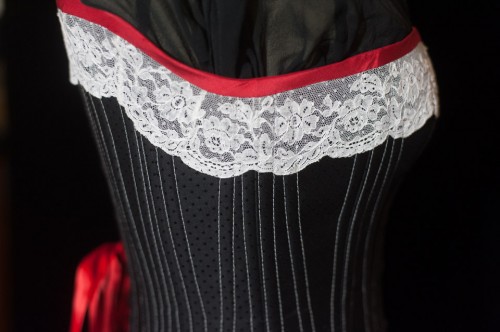 I haven't been stitching corsets much in the past two years so I decided to make this piece before forging ahead on my first custom corset since Cor was born in 2010. It feels like forever ago that I was sewing all the time. Anyway here are some shots of it laying flat. I don't have a mannequin that it will actually fit on since I was practicing a corset for a more slender form and as such my current mannequins are too busy and hippy for it.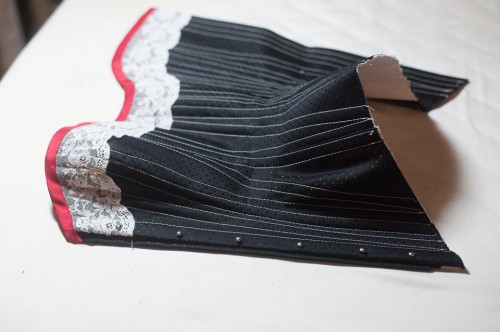 The lace edge is darted to fit the shaping of the front sweetheart leading up into the high back. It is placed and the boning channels are actually sewn over the lace as the construction is done.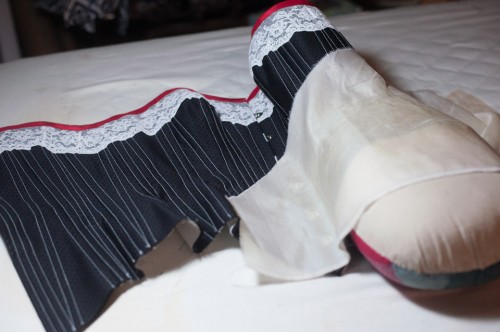 I like to steam my corset over the ham and let it dry into the shape. I guess it is kinda like the theory of the iron maidens where they put the corsets on a form and heated the corset over the form- I don't have a heated metal form so I do my best.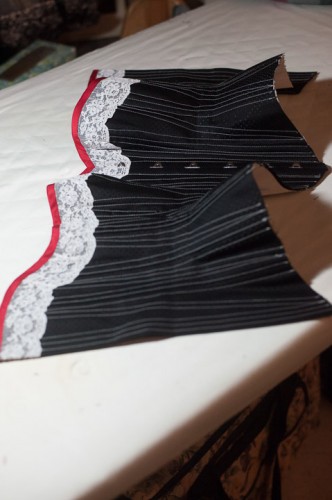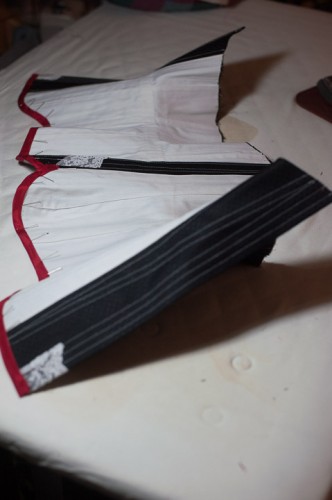 This corset has a fairly gentle hip spring but I still love how the corset already takes the shape even without the body under it.
Dot coutil is just a dream to work with. This convinced me I need to buy more of it! More I say, more! I'm going to be testing doing some Vat dyeing on some this week. Wish me luck! I suck with dye.